BLOODHUNTER es una banda de metal extremo nacida en tierras gallegas en 2008 de la mano del único miembro fundador y compositor principal, DANI ARCOS. Tras varios cambios en su formación y concepto, DIVA SATANICA se une a la banda en 2012, cuyos guturales ayudaron a llevar a la banda a territorios más extremos. Juntos lanzan una demo llamada THE FIRST INSURRECTION en 2013, a lo que le siguó el álbum homónimo de larga duración en 2014, producido por DANIEL CARDOSO y PEDRO MENDES en ULTRASOUND STUDIOS.
Otro componente es MARIOS ILIOPOULOS, miembro fundador de la banda de Death Metal NIGHTRAGE, aporta la pasión típica de un guitarrista del sur de Europa adornado con la sutileza de la escuela de Gotemburgo, creando un magnífico solo de guitarra para la canción "Bring Me Horror" que encaja a la perfección con el concepto de la banda. Este álbum fue distribuido físicamente en muchos países del mundo como Japón, Estados Unidos, México, Brasil, Argentina, España, Portugal, Reino Unido, Alemania, Suecia, Francia, entre otros.
Más tarde, la banda abriría para bandas como Hemdale, Holy Moses, Avulsed, Ancient Rites, Rise to Fall o Aposento, antes de unirse a Nightrage (Suecia) y Methedras (Italia) en su primera gira española de una semana llamada THE BLOODY TOUR. Además, DIVA SATANICA participó en el Programa de Televisión La Voz, sorprendiendo a los coaches con su canto gutural, siendo la primera concursante en realizar este tipo de canto a lo largo del programa. El artista internacional JUANES la eligió para formar parte de su equipo, donde interpretó temas como "Sweet Dreams", "Eye of the Tiger" o "Bad Romance" de Lady Gaga.

THE END OF FAITH es el segundo álbum de larga duración (11 temas) de la banda, producido por ÁLEX CAPPA en THE METAL FACTORY STUDIOS. Este álbum es la evolución natural de la banda tocando metal extremo sin dejar de lado las melodías de guitarra. "All These Souls Shall Serve… Forever!" es la carta presentación del álbum en forma de videoclip. Durante la presentación del disco participan en algunos de los principales festivales del panorama nacional como RESURRECTION FEST, LEYENDAS DEL ROCK, ROCK THE COAST y OTERO BRUTAL FEST entre otros.

Durante 2020, BLOODHUNTER lanzó una reedición de su primer álbum con nuevas ilustraciones. Esta reedición incluye 6 bonus tracks en directo grabados en Madrid durante THE TOUR OF FAITH (2018-2019). La banda lanza su tercer álbum llamado KNOWLEDGE WAS THE PRICE hoy 27 de mayo de 2022 bajo el sello de Maldito Records. Este disco supone un paso más en su carrera con una clara línea ascendente, donde el estilo tan personal destaca dentro del panorama.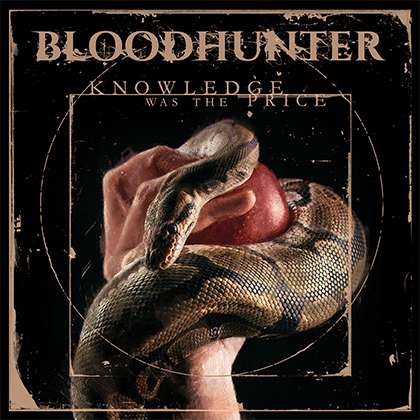 :: Pincha para escuchar 'Knowledge Was The Price' en todas las plataformas digitales ::
BLOODHUNTER is an extreme metal band born in Galicia in 2008 by the only founding member and main composer, DANI ARCOS. After several changes in their line-up and concept, DIVA SATANICA joins the band in 2012, whose gutturals helped take the band to more extreme territories. Together they release a demo called THE FIRST INSURRECTION in 2013, which was followed by the self-titled full-length album in 2014, produced by DANIEL CARDOSO and PEDRO MENDES at ULTRASOUND STUDIOS.

Another member is MARIO ILIOPOULOS, founding member of the Death Metal band NIGHTRAGE, brings the typical passion of a southern European guitarist embellished with the subtlety of the Gothenburg school, creating a magnificent guitar solo for the song "Bring Me Horror". " which fits perfectly with the concept of the band. This album was physically distributed in many countries around the world such as Japan, United States, Mexico, Brazil, Argentina, Spain, Portugal, United Kingdom, Germany, Sweden, France, among others.

Later the band would open for bands like Hemdale, Holy Moses, Avulsed, Ancient Rites, Rise to Fall or Aposento, before joining Nightrage (Sweden) and Methedras (Italy) on their first week-long Spanish tour called THE BLOODY TOUR . In addition, DIVA SATANICA participated in the La Voz Television Program, surprising the coaches with her guttural singing, being the first contestant to perform this type of singing throughout the program. The international artist JUANES chose her to be part of her team, where she performed songs like "Sweet Dreams", "Eye of the Tiger" or "Bad Romance" by Lady Gaga.
THE END OF FAITH is the band's second full-length album (11 songs), produced by ÁLEX CAPPA at THE METAL FACTORY STUDIOS. This album is the natural evolution of the band playing extreme metal without neglecting the guitar melodies. "All These Souls Shall Serve… Forever!" It is the cover letter of the album in the form of a video clip. During the presentation of the album they participate in some of the main festivals on the national scene such as RESURRECTION FEST, LEYENDAS DEL ROCK, ROCK THE COAST and OTERO BRUTAL FEST among others.

During 2020, BLOODHUNTER released a reissue of their first album with new artwork. This reissue includes 6 live bonus tracks recorded in Madrid during THE TOUR OF FAITH (2018-2019). The band will release their third album called KNOWLEDGE WAS THE PRICE on May 27, 2022 under the Maldito Records label. This album represents a further step in his career with a clear ascending line, where his personal style stands out within the panorama.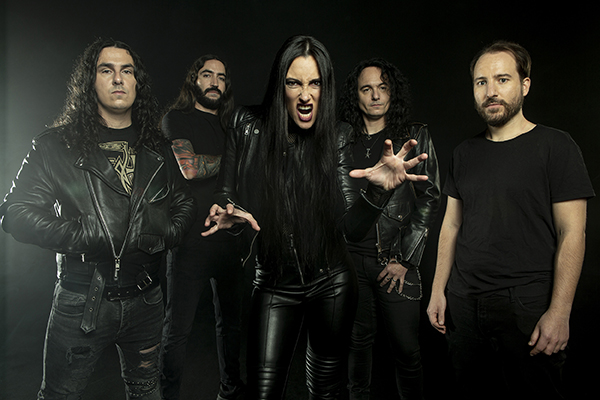 :: PRÓXIMOS CONCIERTOS DE BLOODHUNTER ::